THANKS FOR STOPPING BY...
The indieFINANCIALnetwork (the iFn) is a business management organization, dedicated exclusively to providing financial solutions to the diverse needs of the global music community. Welcome to everything financial and everything pro music business. We realize that dealing with the finances of your music company isn't the sexiest or the most exciting item on the menu, but it is essential to your survival. If you can't figure out an easy way to stay on top of the numbers and to keep your finances healthy - chances are - you may not be around very long. If you are not careful, this business will eat you alive.
We are here for you and your music company, to help clarify your thinking; so you can navigate successfully through the briars and brambles of this cluttered and demanding industry. At the iFn we are focused on the future. Your future. We can handle the heavy lifting when it comes to your finances. We can free you up from the accounting functions of your organization, so that you can dedicate yourself 100% to what you do best - and more importantly - what makes you money. If you look around a little, you can see that we are much more than your typical left-brained accountant types. In addition to the number crunching - which we certainly excel at - we like to think with our whole brains, and provide creative, right-brained solutions to the complex problems of today's music business.
To learn more about us, please head over to the history page. To see the range of services we provide, please proceed to the services page. To see a list of our clients please head over to the clients page. Contact us with any questions you may have at 1-877-BUZZ-IFN - or email us at: moreinfo@indieFINANCIALnetwork.com. We hope you enjoy your stay - come back and visit us again.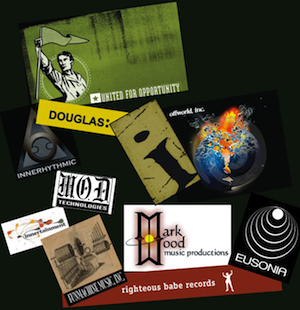 For background information on any of our associated labels or artists please head over to our CLIENTS page here.
For up-to-date performance or recording information on our associated labels or artists - please click below:
indieFINANCIALnetwork CELEBRATES THIRTY YEARS IN MUSIC
Yup, thirty years this month people. Hard for any of us to believe. Where does the time go? We are celebrating on our beautiful lake in Putnam County, New York - with a Concert on the Lake featuring "Three Stories Tall" on Thursday June 12, 2014. Email us for more deets. Here is my heartfelt thank you letter and the press release that will be circulating soon at a News Service near you: click here.
ALAN DOUGLAS: JULY 20, 1931 – JUNE 7, 2014

We were deeply saddened to learn of the death of our friend and client Alan Douglas on June 9th. Alan was 83 and died in Paris, France. Although a lot of the work he did with Jimi Hendrix was certainly controversial, his supporters credit him with maintaining, if not reviving, Hendrix's musical legacy during the 1980s and 1990s - and note that many younger fans appreciated the access to the then out-of-print material included on many of Douglas' release. With the death of Alan Douglas, the world has lost one of its most important music producers in recent times. Douglas was not well known except to those in the industry, he was a behind the scenes guy responsible for way more incredible music than people realize. Music that changed and shaped people's lives. Think about John McLaughlin and the Lost Poets. Hendrix got along with Douglas because Douglas was about music – pushing musical boundaries, putting together extraordinary musical talent in unique combinations to synergistically create music that had never been heard before. They had that in common. Douglas introduced Hendrix to Miles Davis, Quincy Jones, Gil Evans, John Mclaughlin, Larry Young and the Last Poets among others. There is a comprehensive bio of Alan and his life here, and a great article on his achievements in Jazz Fusion here. He will most certainly be missed.
MORE SUGAR 2014!
Special thanks goes out to the good folks at More Sugar, the best entertainment paper anywhere! Tom, Victoria and Karen decided - out of the goodness of their hearts - to publish a feature on the indieFINANCIALnetwork in the January issue. They have also asked me to write a monthly article for the paper. The February issue featured an article we wrote called "How to Find A Manager" and the March issue has our story "That Elusive Career-Breaking Song". The April issue was "The Music Business and Cash" - and both the May and June articles are both about record labels - "Record Labels Defined" and "The Record Label of the Future". We are staying away from boring tax and accounting issues for the most part. Several other interesting topics will be covered in depth in the coming months. Check out More Sugar by clicking on the graphic above or visit our version of the articles here.
BERNADINE "BEST OF SHOW" IN KATONAH
We had a spectacularly beautiful and balmy day on Sunday, June 22nd and decided to head to Katonah, New York for the Katonah Lion's Club 16th Annual Car Show. There disappointingly was not an appearance by local regular Martha Stewart, but Bernadine was in rare form and the good judges awarded her with a Best of Show Trophy, among over 300 cars. Special thanks to the judges and the members of the Lion's Club, who raised a nice sum of money for the local community and their scholarship fund. The rumor is that the old school rodz like Bernadine are leading a heroic comeback in the automotive world, which we seemed to pick up on. Even some of the younger folks who usually walk on by stopped to discuss her intricacies. Thanks to all for a fantastic time! For my version of the restoration of this 1929 Ford Model A Hot Rod go here.
BERNADINE FEATURED IN SCANDANAVIA'S LEADING ONLINE MAGAZINE
Springtime has been pretty good to Bernadine so far, who is being featured in the outrageously cool Swedish online girlz and carz magazine called Pinups And Kustoms. RIck wrote the story and the magazine is publishing it in three parts. Thanks to entrepreneur, designer and guitarist extraordinaire "RocketMan" for his interest, support and help with this project - and for creating such a cool magazine. One of the largest car shows in the world takes place in Sweden and they can't get enough of the good old American 1950's hot rods. The rumor is that the magazine is going to a print version this fall and that Bernadine is going to be on the cover. To take a look at Part One please click here. More to come as spring unfolds.
BERNADINE FEATURED IN "CAR KULTURE DELUXE"

Kudos go out to Alan Mayes of Car Kulture Deluxe magazine for publishing an article on "Bernadine". The article features photos of the car by pin up and classic car photographer extraordinaire Viva Van Story. For my version of the restoration of this 1929 Ford Model A Hot Rod go here.
A WORD ABOUT "HAPPY THE MAN"
Click on any CD cover above to check out some Happy the Man and to go directly to the "Everything Happy the Man" Music Page
I get inquiries on a regular basis about the band I co-founded Happy the Man. There is a site that I have constructed here which has the history of the band since our formation in 1973. The official site is here which covers the reunion years only - basically from 1999 - 2006.